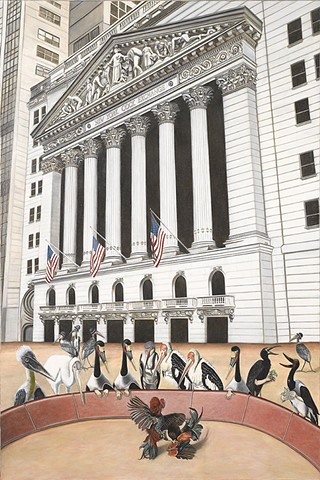 Bio:
Jennifer Delilah, born 1965 in El Paso, Texas, is a figurative painter who lives and works in Brooklyn, New York. She studied fine art at The Arts Magnet High School at Booker T. Washington in Dallas, Texas, The Kansas City Art Institute, and received her BFA from the San Francisco Art Institute. Before relocating to New York City in 2005 her work was shown in multiple venues around the Bay Area, including the Richmond Art Center, Venue 9, Start Soma, Hotel des Arts, and in New York at Jack the Pelican Presents, Jonathan Levine Gallery, Figureworks, Pierogi 2000, and The Drawing Center among others.
Using oils, encaustics, and watercolor as her primary mediums she creates elaborately detailed narrative works that form a stream of consciousness account of the rise and fall of a peculiarly populated and yet oddly familiar Empire. Often set in the grand salons and gardens of Versailles, her compositions reference historical imagery in order to recontexualize events and societal dynamics such as the balance of power, in any form, be it economic, political, or sexual. 
Artist Statement:
I'm interested in the ways in which our sublimated primordial drives and instincts manifest in society, the liminal point where nothing can deny the beast within of its wildness, and the tension between our animal instincts and our self created "Civilization". I'm fascinated by the ways in which people come to revel in dominating others or in being dominated, taking on the role or predator or prey, and the ways in which people come to love their chains. 
The recurring moments at which our societies persist in mimicking a beehive without the imperatives of nature ruling its progression, and the point at which we are in danger of colony collapse are also ever present themes. I illuminate that tipping point, the point at which things get out of balance, and the inevitability of that balance being restored by nature. These are some of the driving themes in my work.
Her work has been featured in ArtFuse, Whitehot Magazine, High Fructose, Gallery Glass, JustLuxe, VivaGlam, The Examiner, Pop Culture Passionistas, and RYOT Magazine. Links for these articles can be accessed on the News page.